It is almost strange in these days of wide spread smart phone adoption that we are talking about this because some days, it seems to me everyone is 'mobile'. Yet, judging from the questions and comments we receive, I am proved wrong and so I'd like to share some thoughts on how I made gradual changes to my business so now, I no longer have to be in my office and at my desk all day long if I choose.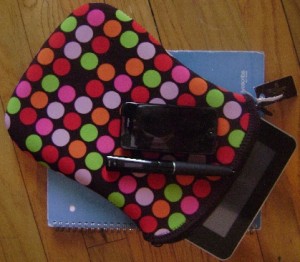 Before going too far I must say that not all businesses or entrepreneurs require, want or can be mobile. If you own a wedding cake business, obviously you can't work from anywhere. However there are parts of any business that could be.
In our business, I do a variety of things. Some examples are blogging, writing guest posts, appearing on web casts, creating written and video content, fixing or tweaking web sites and of course application programming.
At this point in time, I still have not found a good way to program or fix web sites on the go. The reasons are varied but it is largely because there are certain programming environments I need to have access to that just aren't available on a mobile device or if they do it's plain uncomfortable. Give me a power house desktop and multiple monitors any time for that kind of work.
However there are plenty of other areas where I can implement mobility. Like, content creation, communicating with customers and followers on social networks or email, brain storming, project planning, team management. You get the idea. These are things you just don't have to do in the office or for that matter need a computer to accomplish.
With that in mind, I started looking for tools that can help me write, brain storm, communicate and manage from anywhere.
One of the first things I purchased was not a smart phone surprisingly, but a Livescribe pen. If you didn't have to be in touch with anyone at all this pen alone would suffice. It has really been great. Here is a short list of some ways I've used it:
Record conversations with clients as we went over their web site and hashed out wants, likes, changes
Write articles for distribution, affiliates and blog posts at the beach
Brainstorm new projects, company direction and focus at the park
Wrote standard operating procedures including sketches etc to share with helpers so they know exactly what I want and how I want it done
Record and note important points listening to an MP3 while traveling
The next thing I did, was to consciously seek out and utilize tools that are not desktop bound and when I say desktop I also mean laptop. I've never really been a fan of laptops and would much rather not carry one if I can carry something many times lighter and smaller.
Back to the tools, when choosing them I also made it a point to ensure the tool has either a mobile app or mobile interface. While I placed a high value on this, it was not entirely necessary depending on what the system is because if the program is accessible online, most modern smart phone browsers can handle it. Here's a rough list of what I ended up implementing:
Lastly, I upgraded my phone. While I've always had a smart phone, I felt it was important to switch to a different platform that offers more current and popular apps and also one that the tools chosen above supported. Because I made sure the tools I used had mobile options in the step above, this part was like riding downhill. It just 'fell in place'. All I needed to do was to get and install the mobile apps.
Somewhere along the way I also added a tablet. It does not get as much use as the phone though. And now, I have everything I need to stay productive no matter where I am and even at very short notice. A wonderful example was when my husband asked me to accompany him on several trips to a nearby city these past 2 months. Without having to think too much about it, all I needed to do was pick up the phone, my Livescribe pen and notebook. I'm good to go.
Have you gone mobile too? What do you use most? Do you like it? Do share use the comments space to share.