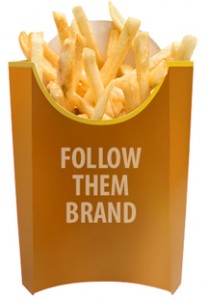 Have you ever really noticed how so many businesses follow the same model? Most of the fast food chains all have the same front counter setup including the display menu above the counter on the back wall. Electronic stores all have the same basic floor plan and grocery stores as well. If makes me ask the question who started each model and why is it that most entrepreneurs would rather follow than lead? I believe that they think – "If it works for McDonald's, who am I to question it."
What ever happened to innovation? Originality? Is there no value in leading any more?
There are a few bright spots. I was recently at an Apple store. The cash is along the back wall. The odd thing was there were no cash registers. On purchasing they email you your receipt. The layout is open and airy, and only their icon is on the marquis. I was at a local sushi restaurant, where you sat at your "spot" and the sushi came past you in a little boat and you take the plate you want. Very unusual, and different.
Two entirely different size operations but BOTH are leaders. When consumers are trying very hard to be discriminating about where they drop their dollars, wouldn't you agree that it would be the better move to grab their attention with a unique approach rather than be another one of many? How much more will you have to spend in advertising to distinguish yourself after trying so hard to blend in? Differentiation isn't a catch word it's a game changer in every regard. Back to Apple, what if the iPad looked just like the Kindle, do you really think they would have sold 450,000 in the first week?
It's time you ran your own business and let the competition bury themselves in someone else's.