We received news of these reports a few days ago and wanted to put the word out so you can take advantage of these business research reports by Aberdeen Group. The reports covers a wide variety of topics.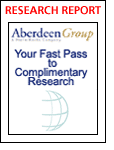 We've been told these are time sensitive offers, many of them expire July 30th. After that, they are sold for $399. So this is your chance to really save big and get your hands on some solid research data. Some of the topics you can expect to find are:
For a full listing of all the available research reports, visit TradePub. Remember to do so before July 30th so you don't miss out.
Note: This post contains affiliate links. For full disclosure, view our policy.
Latest posts by Ken Chandler
(see all)