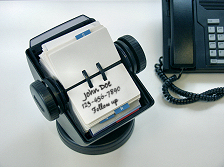 I have been in business for the past 12 years and it started when I was 17 in high school. I have always been told that consistent follow up and persistence is key with a new prospect. This seems to work well for customers that sign up quickly. However, it does not appear to be the case if they may only be interested in the near future, such as in a few months or years later. I am in the merchant account industry, a very competitive business where merchant loyalty is nonexistent. Some merchants will switch providers without a second thought. This brings me to a couple of stories I have that are not only entertaining but questions the effectiveness of long-term follow up.
The first story has to do with a prospect named Sean that contacted us in January of 2007. He was calling for an Internet company he owned that sells XM radio equipment. We had a nice long conversation that went really well. After following up numerous times over the next few weeks, he ended up going with another provider. Sometime in 2009, I came across a familiar name in the Inc's 500 fastest growing companies. I did some searching in our database and there it was, Sean and his XM radio company. I decided to start following up again on this lead hoping he wasn't thrilled about the company he selected back in 2007. I did this for the next 6 months.
Sometime late 2009, I come across this credit card processing comparison site. I contacted the owner whose name happened to be Sean to become a participating vendor. We had a nice phone conversation, but nothing matured as he wasn't interested in adding any more vendors. Earlier this year the XM radio lead popped up again in the database as I was still following up on it. At this point, I then put the two together. This is the same Sean. He started this new comparison site out of frustration with our industry at his radio company. So, after all my persistence, Sean never considered me or my company for this new comparison site. Obviously it didn't matter or impress him that I was still following up on his prior contact from 2007.
The second story is about a merchant that called back in 2006. They own a chain of bio fuel stations. After about a month of perusing this customer, he signed up with Chase. I then continued to follow up every 4 months or so by calling and leaving a message. I did this for the next 3 years with over a dozen phone calls. By this time, he knew exactly who I was. I was hoping Chase would eventually slip up, leaving the customer dissatisfied and I would come to the rescue. In January 2010, he finally responded by saying that though he was impressed by my persistence, he is not interested in switching and does not see it changing anytime soon.
So the question is how effective is it to follow up on leads that may only mature in the far distant future? After all my experiences and countless stories, I'm starting to question the whole concept. Do you have any experiences that say otherwise?