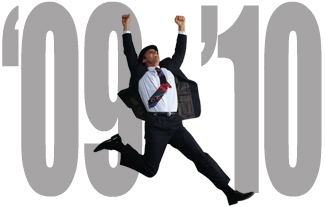 Whew! I guess we made it through the year. Looking back at 2009, were any of your fears realized? Was your apprehension worse than your reality? I have to admit I came through it with barely a scratch. (maybe a few bumps and bruises) Every new year presents unique challenges. The one main strategy I employ is positive energy. When new challenges present themselves, I try to make them into opportunities. If a lose a piece of business to competition, my attitude is that they will come over at some later date – stay focused on the bigger picture.
What have you put into place over the past year that strengthens your brand? One thing about a poor economy is that it provides us with the motivation to refine our operations and in some cases re-define who we are. New revenue streams may emerge from the lessons we have learned.
Going forward, your job is to get the word out there about your business. Use the web as much as you can to push you brand and expert profile. Build an opt-in email database and use it as your own personal market. Don't view the web from a traditional marketing stand point – that is, run an ad, wait for a response. Discover ways to engage leads, customers and past-customers in stronger relationships with your business.
Ignore the financial shows on CNN and other media. They get better ratings when times "seem" desperate. Look at Glenn Beck for instance: preaching doom and gloom through his shows and books all the while endorsing Goldline (a gold selling service). Gold benefits from a horrible economy. Talk about a self-serving philosophy – I used to admire him a bit, now he's just another charlatan in my view. Shame.
I suggest taking the yang from Beck's ying, and generate an atmosphere of positive energy. Surround yourself with positive entrepreneurs and look for ways to raise the bar of your business and make 2010 your best year ever. You're already working hard, so take that fabulous effort and direct it to additional initiatives that will differentiate your brand allowing you to "lead not follow".