A brand is a far reaching thing. It involves more than just the obvious. A good many businesses have brands that are less than they ought to be. They're not the kind of company to take bold moves and create a unique experience. I am quite frustrated when I see companies play loose with their visual brands. Take the accompanying photograph. When this business took over the building and removed the old lettering, they took the cheap way out and failed to bother re-surfacing the facade. What you have is what looks like the building was sprayed with bullets. Ironic that it's a legal office.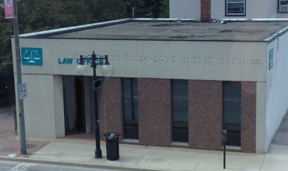 The proper move would have been to resurface then apply the new signage. MUCH more professional. This is just sloppy and lazy. Is their legal advice any better? Who knows, but their street level visuals is saying exactly that. The few bucks they saved may have cost them business. Something so basic can and does damage brands. If you were to ask them if they run a tight ship, no doubt they'd think they are first class operation.
Is there an aspect of your business that could show better than it does today? It might not be a visual thing but an experience perhaps. If you have service as one of your brand values but it is common practice to leave a customer on hold or put them through voice mail hell, that speak as negatively of your brand as the unsurfaced facade. Uninspired sales teams – same thing.
I constantly try and add value to my brand service. It's a practice what you preach philosophy.
Imagine the message I'd be sending if I let mediocrity rule my brand. What you even consider retaining my services? All of us must walk the walk. Too much effort goes into doing what we do to make a living to risk it's value as a brand.