THE Marketing Tool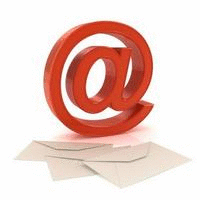 Small business owners who are looking for a budget-friendly way to market their business may find email marketing their perfect solution. Many of the most successful internet marketers rely on this form of marketing for the majority of their sales. But can this really work for your business?
As the name implies, email marketing is a form of marketing done via email. Recipients sign up to receive emails from the business owner, usually in the form of a newsletter. In turn, the business owner sends out these emails along with some type of promotion for their business.
In a perfect world, the reader reads these emails, learns about the promotion and becomes a customer. Sounds simple – and it is, but there are also variables along the path to making this a successful way to market a business.
As with any marketing tool, there are some cons to email marketing. Don't let that stop you from trying this technique, as these can be worked through.
The first obstacle to overcome is managing the mailing list. It would be nearly impossible for a business owner to try and do this on their own. If your new subscribers had to send you their information in order to be added, and you had to hand type out each new recipient, you wouldn't have time for anything else.
There will be people who will want to be unsubscribed from your newsletter. Again, if they had to send you an email and you had to personally remove them, you would be spending way too much time managing your list.
This can be avoided by using an autoresponder service that allows people to sign up and remove themselves. Autoresponders also help your emails get delivered and avoid getting caught in spam filters.
Some business owners may struggle with getting their readers to open their emails. This can be avoided by creating interesting subject lines that get your readers' attention.
Other people are afraid that they will run out of ideas of what to write in their emails. To generate some ideas, try writing out all the questions your readers may have about the benefits your products or services may offer them.
Some additional options would be to hire a ghostwriter to come up with customized content or to buy pre-written private label rights content.
Email marketing offers many benefits, as it is easy to use, very affordable and allows you to build relationships with your customers.
Deliver Your Message to the Right Market
When people set about marketing their business, it can be a big gamble. If the person is putting up money, it can be scary to think you might not get a good result. And if a business owner is using free marketing methods, they are putting up a lot of their time.
Either way, once the time or money has been spent, they cannot retrieve it. To make the best use of time and money, it is important for the business owner to make sure they are delivering their message to the right target market.
A target market is the business owner's ideal audience. These are the people who would be their best type of customer.
There really is no sense in putting time and money into marketing if the message is being delivered to the wrong audience. In fact, it is a big waste!
For instance, a business which sells high-end baby clothes is not likely to see a good result from advertising on a frugal mom website. Yes, moms are in need of baby clothes, but a site catering to moms who are trying to save money isn't the place for the ad of a business which sells $40 onesies.
But if you turn that around, and the business owner writes an article which contains a link back to their own site, for an ezine targeted to new moms with lots of disposable income, the business owner could do quite well and see an increase in traffic and sales.
There are several ways to determine your target market. One of these is to take a few minutes of quiet time and visualize exactly who is in need, or want, of your product or service.
Try to picture them as clearly as possible. Are they male or female? How old are they? How will your product or service help them? What benefits does it offer them, and how is that going to make their life easier?
You can also do a search for competing and complementary products and take a look at their websites. When you look at it, who do you feel they are marketing to? Do you find a similar image to their target market and your own?
Once a business owner begins to target their marketing efforts and make sure their message is being sent to the right market, they will see a much better return on investment.
Create a Great List
If you spend much time around internet marketers, you'll hear them talk about "the list". That term refers to their mailing list, which is made up of people who have requested to receive information from them, usually in the form of email newsletters.
For many internet marketers, the bulk of their income comes from marketing to the people on their mailing list. A person's list can truly be their key to success.
Unfortunately, some people mistakenly believe that the bigger list they have, the more successful they will be. There are a lot of ways to "get" subscribers, such as contests, list swaps, and even through list purchasing. It is possible to achieve a high number of subscribers through these methods… but that doesn't always guarantee success.
Instead of focusing on the number of people on the list, focus on the quality of the list and how interested the people are to receive the information. A list of 1,000 very interested people will bring in much more money than a list of 10,000 uninterested people.
The following are some tips to help you build a great list:
Easy sign-up process
If signing up for your newsletter is a complicated process, many people will simply click away. It's also important to make sure the sign-up box is easy to see. Some people place it at the bottom of their sites and if the visitor doesn't scroll all the way down, they'll miss it. Many studies suggest that placing your newsletter sign-up box on the top right portion of your website will yield the best results.
Promote your list to your target market
Knowing your target market is another big key in creating a great list. The more targeted the people on your list are, the more likely they are to purchase your products or services.
Your target market consists of the people who are most likely to be interested in what you have to offer. For example, if you sell natural baby care products, you probably wouldn't want to promote your list by purchasing an ad on harleydavidson.com.
Offer a freebie
Many people offer their subscribers a freebie in exchange for joining their mailing list. This could be in the form of an ebook, a special report, an audio recording of a teleclass or some other information product. When doing this, it's always best to stay close to a topic your target market would be interested in. Going back to the example of someone selling natural baby products, a great freebie would be a small guide filled with natural baby food recipes.
Building a great list, full of targeted readers, will take some time to develop. Don't get discouraged if it doesn't happen overnight. Over time, the list will grow and it can develop into one of your best business assets.
Newsletter No-No's
Business owners who are looking to market their business often seek out outside advertising. They will gladly pay money for an ad that lasts a week or a month. This can get costly – especially if the ad doesn't reach the intended target market.
One thing that business owners often fail to think of is marketing to their current customers and website visitors. This is a simple way to market your business, and it can be very easy to implement.
Marketing a business with email newsletters can be very beneficial, for many different reasons. The people who sign up for your newsletter want to hear from you. They are already familiar with you and your products and services. It will be a lot easier to sell a new product to them than to a stranger.
There are a few things that you may want to avoid with newsletter marketing, though. For as much business that they can bring in, they can also turn people away just as easily.
* Unprofessional design: If a newsletter looks sloppy or unprofessional, it may lend a bad image to your business. For best results, a business' newsletter design should look similar to their website. This will create brand recognition and help your subscribers remember that they signed up for your newsletter.
* Misspelled words or bad grammar: When a potential customer reads a newsletter full of misspellings or bad grammar, they may assume that the business owner is equally sloppy with everything about their business. They may not want to buy the business' products or services for fear that they will be poor quality.
* Outside advertising: Some business owners earn quite a bit of money through accepting outside advertising in their newsletters. And this business model may work well for your own business. However, before you decide to go down this path, it is best to think twice.
When a newsletter includes information about your business and links to your site, you are giving your readers a reason to visit your site. When you accept outside ads, you are giving your readers a reason to visit someone else's site.
Would it be more beneficial to your business, and your bank account, to have people visiting your site or someone else's?
* Content not focused on target market: The most important thing to leave out of a newsletter is content which is not focused on a business' target market. A person subscribes to a newsletter because they want to receive information on a certain topic. If the newsletter doesn't contain info on that topic, the subscribers will likely become frustrated and stop reading.
If done right, a newsletter can be a great business tool. It can serve as a wonderful way to communicate with your customers and bring in new sales. By using the above tips to know what to stay away from, your newsletter will be on the road to success.

Recommended Resource: Aweber is Email marketing software, Email Newsletters, and Autoresponders.